SONNEILLON BM - Sem medo de perder
Sonneillon BM - Rehearsal 2011 + Daemoniacus Promo
Sonneillon BM - Zargos recording vocals (Studio Report)
SONNEILLON BM: novidades exclusivas sobre álbum de estreia e split já disponível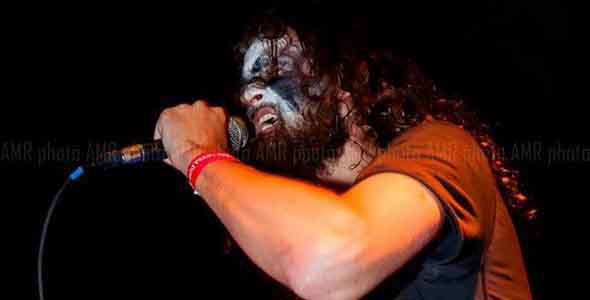 Fotografia: AMR Photos
Já se encontra disponível para encomenda o

split «Underworld Dominion» composto pelos nacionais SONNEILLON BM e pelos brasileiros MALLEUS.
A banda de black metal do Porto contribui para este registo com seis temas, produzidos pela própria entre 2012 e 2013 em colaboração com Bruno Silva [ex-HEAVENWOOD] no Estúdio 213. Como convidados estão Paulo Barros [TARANTULA], Quetzalcoatl [SCARIFICARE], Joana Ferreira e Haborym BM[ex-BEASTANGER]. Já o

artwork

foi assinado por Aghaven (baixista e vocalista dos MALLEUS) com logotipo dos SONNEILLON BM por Ishkur.
«Underworld Dominion» pode ser adquirido por sonneillonblackmetal@hotmail.com

ou pelos selos Corvo Records, Infernal Rites Distro, MVCS Distro & Prod, Ventos da Morte Records, Sons Of Death Prods, Wolf War Distribution ou Anaites Records.
Os SONNEILLON BM formaram-se em 2008 sob a batuta do baterista e compositor Miguel "Bellerophon" Santos. Estrearam-se no mesmo ano com o EP «Diabolic War» e em 2010 lançaram o DVD ao vivo «Consumed By The Flames», filmado no Spot Bar, no Porto.
Em Setembro, os SONNEILLON BM estreiam-se com o álbum «Daemoniacus Daemonum Interitum Et Agone Deos» pela germânica SFH-Records, masterizado por Patrick W. Engel que masterizou «Sempiternal Past - The DARKTHRONE Demos». Abaixo é possível conferir a capa do álbum, concebida por José Luís Moreira. O novo logotipo será assinado por Christophe, que desenvolveu o do Emperor, entre outras bandas.
Nos tempos seguintes está planeado ainda o lançamento de um videoclip («Herege», masterizado porPaul Allender, ex-CRADLE OF FILTH), um single («Wolves», a editar pela Evil Productions com o apoio da Anaites Records) e um split CD com bandas dos Estados Unidos, Holanda e Espanha. Este último item intitula-se «Eradication Of The Human Plague» e conta com os SARDONIC WITCHERY,BLACK COMMAND e SATERDUM, cada qual a contribuir com três temas. A sua edição, limitada a 100 cópias, está agendada para Dezembro pela Underground Longhorns Records. O adorno da capa é da autoria de Arcanus dos portugueses INNER HELVETE.
Mais informações aqui.